The Hummingbird
Posted by:
Aamir
Oct 31st, 2006 •
Category:
Eye Candy
•
Tags:
birds
,
wildlife
•
Hummingbirds are small birds in the family Trochilidae. They are known for their ability to hover in mid-air by rapidly flapping their wings, 15 to 80 times per second. Capable of sustained hovering, the hummingbird has the ability to fly deliberately backwards or vertically, and to maintain position while drinking from flower blossoms. They are named for the characteristic hum made by their wings.
Hummingbirds are attracted to many flowering plants— shrimp plants, heliconia, bromeliads, verbenas, fuchsias, penstemons—especially those with red flowers. They feed on the nectar of these plants and are important pollinators, especially of deep-throated flowers. Most species of hummingbird also eat insects, especially when feeding young.
Hummingbirds bear the most glittering plumage and some of the most elegant adornments in the bird world. Male hummingbirds are usually brightly coloured. The females of most species are duller. The names that admiring naturalists have given to hummingbirds suggest exquisite, fairylike grace and gemlike brilliance. Fiery-tailed Awlbill, Ruby-topaz Hummingbird, Glittering-bellied Emerald, Brazilian Ruby, Green-crowned Brilliant, Festive Coquette, Shining Sunbeam, and Amethyst-throated Sunangel are some of the names given to birds in this group.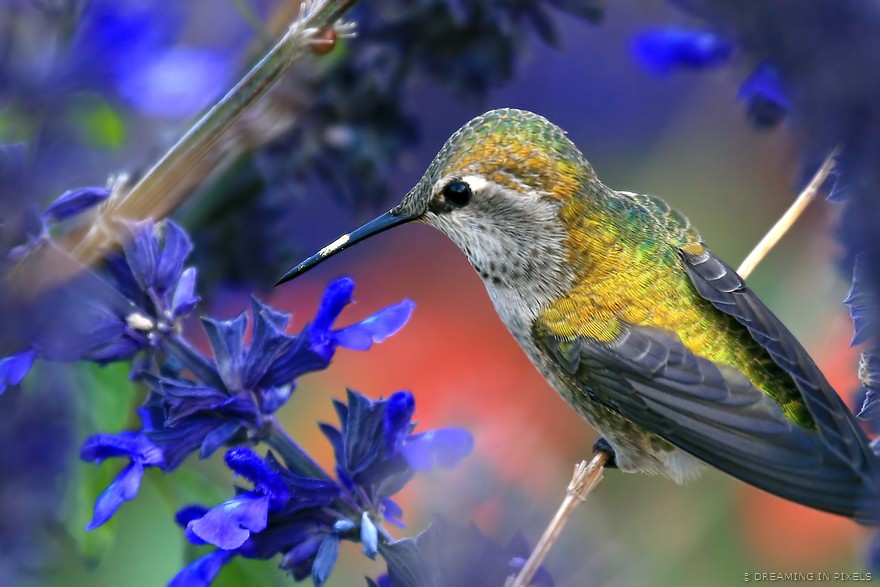 With the exception of insects, hummingbirds while in flight have the highest metabolism of all animals, a necessity in order to support the rapid beating of their wings. Their heartbeat can reach as high as 1260 beats per minute. They also typically consume more than their own weight in food each day, and to do that they have to visit hundreds of flowers daily.
At any given moment, they are only hours away from starving. However, they are capable of slowing down their metabolism at night, or any other time food is not readily available. They enter a hibernation-like state known as torpor. During torpor, the heartrate and rate of breathing are both slowed dramatically (the heartrate to roughly 50-180 beats per minute), reducing their need for food.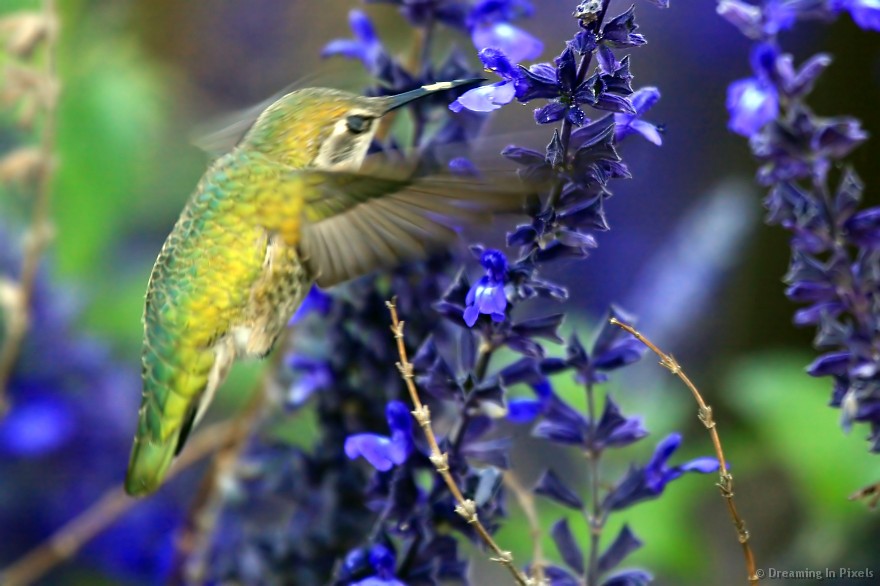 Trivia Time: The Bee Hummingbird is the smallest bird in the world, weighing 1.8 grams. A more typical hummingbird, such as the Rufous Hummingbird, weighs approximately 3 g and has a length of 10-12 cm (3.5-4 inches). The largest hummingbird is the Giant Hummingbird, with some individuals weighing as much as 24 grams.
Posted by:
Aamir
Oct 31st, 2006 •
Category:
Eye Candy
•
Tags:
birds
,
wildlife
Back to top