Samoan Fire Knife Dancers
Posted by:
Aamir
Oct 11th, 2006 •
Category:
Eye Candy
•
Tags:
dance
,
hawaii
,
samoa
,
travel
•
The Samoan fire knife dance (or Siva Afi as it is called in Samoa) is more than a popular spectacle that adds sizzle to a Hawaiian luau*. It's a tradition that has been passed from generation to generation, with each adding a new layer of style, boldness and skill.
In 1946, Letuli Olo Misilagi was the first man to add fire to the traditional Samoan ailao, or knife dance after he was inspired by a fire eater and a baton twirler in San Francisco. The ailao, a fierce traditional dance that involves twirling of the nifo oti (war knife), was a foot stomping pre-war ritual in Samoa used to psyche up warriors. It was also used to challenge and intimidate enemies or celebrate victory in battle.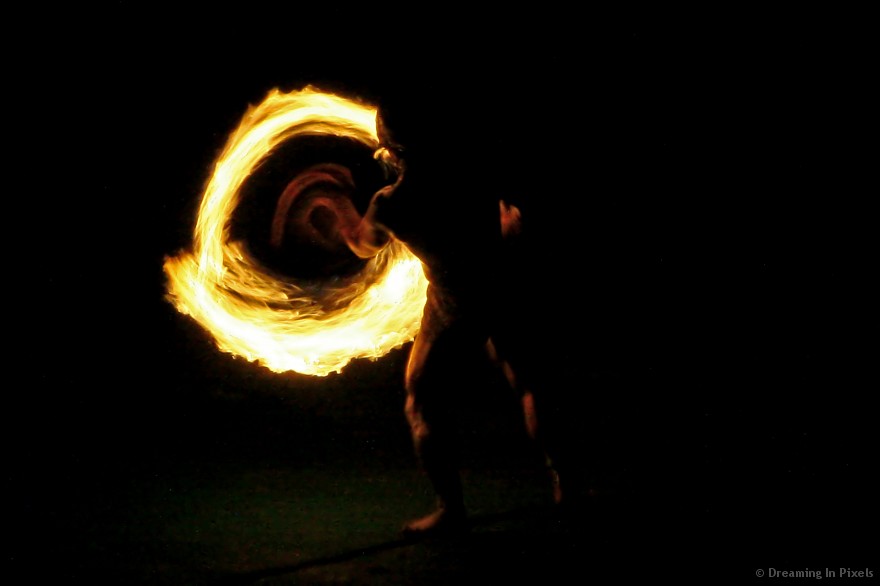 Today, of course, the Samoan fire knife dance is a power packed performance in Polynesian revues or luaus. There are fire knife dance competitions held throughout the Pacific, including the annual World Fire Knife Dance Competition in Oahu. Each May, competitors from around the world gather on the island's North Shore to display their fire knife skills.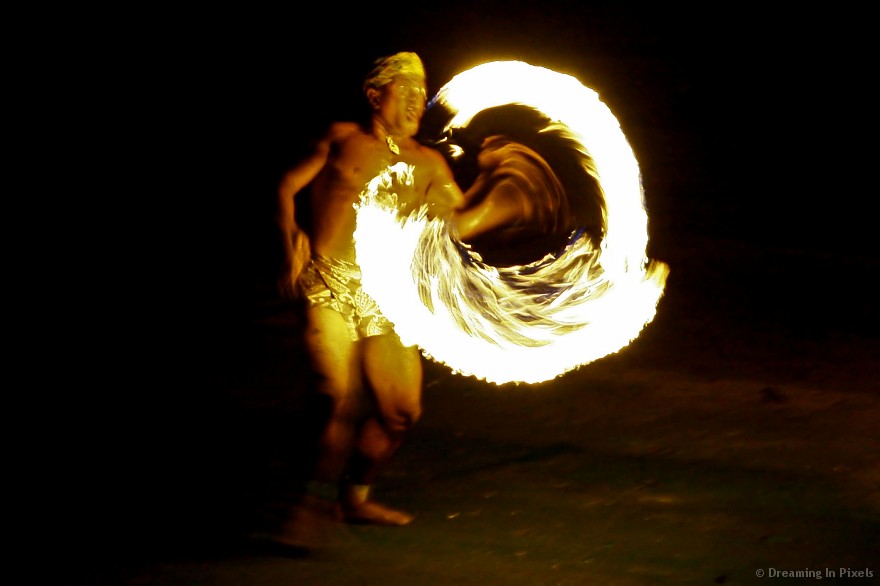 One must get rid of the fear of getting burnt in order to excel in this dance. Sometimes accidents do happen. The performers get burn wounds from twirling fire knives if their concentration is disrupted even a little bit. To protect them and help minimize burns, performers often wrap a moist towel on their heads and sometimes tie wet banana leaves to their wrists, neck or ankles.
Some performers are skilled and talented to handle two fire knives at the same time and some are content with just one. It is like juggling; Your brain needs to be able to control actions of left and right hand independent of each other. For most people, this is not the case. Let me prove it to you.
Raise your left hand above your head and pat your head. With your right hand, rub your tummy in a circular motion. Try doing both simultaneously. Some people might be able to work both hands independent of each other, but lot of people end up either patting their tummies or rubbing their heads. If you think you aced it, switch hands immediately. If you find that you are patting your tummy and rubbing on your head at the same time, you are not alone 🙂
Fire dancing requires one to be of a sound body and mind. It requires a tremendous amount of concentration along with physical flexibility in order to perform these dances.
One more brain coordination test for you. Sit on a chair, lift your right leg and rotate it clockwise. Now, raise your right hand and draw the number 6 in air. See what i mean? 😉
This dance routine is performed to upbeat rhythmic drumming, hand clapping and singing. A dance troupe can include from 2 to as many as ten rows of dancers. Most of the time, it is the men who play with fire while the women dance around gracefully.
The dance recalls stories from the past, from farewells to loved ones, to great fishing expeditions and war campaigns.
Here are some videos (PS: Found them on YouTube, so credit goes to whoever posted them)
*Luau = A luau is the ultimate "feel good" Hawaiian celebration that incorporates favorite Island traditions as well as modern-day amenities. In ancient times, Hawaiians held traditional feasts to mark special occasions—the birth of a child, a successful harvest or victorious battle were all reasons to honor the gods who showed them favor. These celebrations were called ahaaina ("gathering for a feast"). The term "luau" actually came much later and refers to the edible taro leaves that are used to wrap the food before being placed in the imu (underground oven). More on Luau's here
Posted by:
Aamir
Oct 11th, 2006 •
Category:
Eye Candy
•
Tags:
dance
,
hawaii
,
samoa
,
travel
Back to top