Lord of the Lorikeets
Posted by:
Aamir
Dec 11th, 2006 •
Category:
Eye Candy
•
Tags:
birds
,
wildlife
•
Lorikeets are small, brightly coloured, highly arboreal parrots, a native of Australia. This most striking colored and noisy bird is one of 328 species of parrots found and 1 of 21 subspecies of Lorikeets called the Rainbow Lorikeet. Their distribution is mainly throughout New Zealand and coastal lowlands of northern and eastern Australia. Elsewhere, it is widespread from Indonesia to Vanuatu and New Caledonia.

Green Nape Lorikeet (Trichoglossus haematodus haemotodus)
Rainbow Lorikeets exhibit a dazzling color combination, ranging from emerald green, orange, midnight blue, dull blue, ruby red, lemon yellow, purple, violet greenish grey. Surprisingly enough this colourful bird can be hard sometimes to pick out in its natural habitat. They are a small bird generally 11 to 12 inches long, weighing 120 to 140 grams on average; females are generally a bit smaller and adolescents have duller markings.

Swainson's Lorikeet (Trichoglossus haematodus molocanus)
Lorikeets have tiny hair like appendices on the end of their specialized tongue, to help extract nectar. Their beaks are designed to easily extract hard to reach seeds from cones. For harder fruits found in rainforest trees, the birds begin by scraping the fruit on the inside of their open bill and then remove the sweet juice with their specialized tongue. Whilst feeding, because of the good grip they can get with their claws, they can be observed hanging upside down to feed. They occasionally feed on insects and larvae They obtain moisture from water trapped in leaves, but can also drink water directly using their tongue.

Blue-Streaked Lorikeet (Eos reticulata) & Weber's Lorikeet (Trichoglossus haematodus weberi)
Lorikeets spend approximately 70% of their time feeding. They can feed on 30 to 40 eucalyptus flowers per minute! While searching for food, the birds can travel more than 30 miles daily, stopping in 10-second intervals to scan the area in search of food. Unfortunately, because the lorikeet's diet is comprised of nectar, pollen flowers, fruits, berries, unripe grain, apples, pears, and corn, they are responsible for a significant amount of crop damage and are considered pests by many.

Edward's Lorikeet (Trichoglossus haematodus capistratus)
The lorikeets' roost is a centralized location where, it is thought, the birds congregate to share information. Spreading the word about discovered food resources, finding potential mates, and teaching feeding techniques to inexperienced fledglings are possible "topics of conversation." Roost sizes vary seasonally, some having as many as 50,000 birds!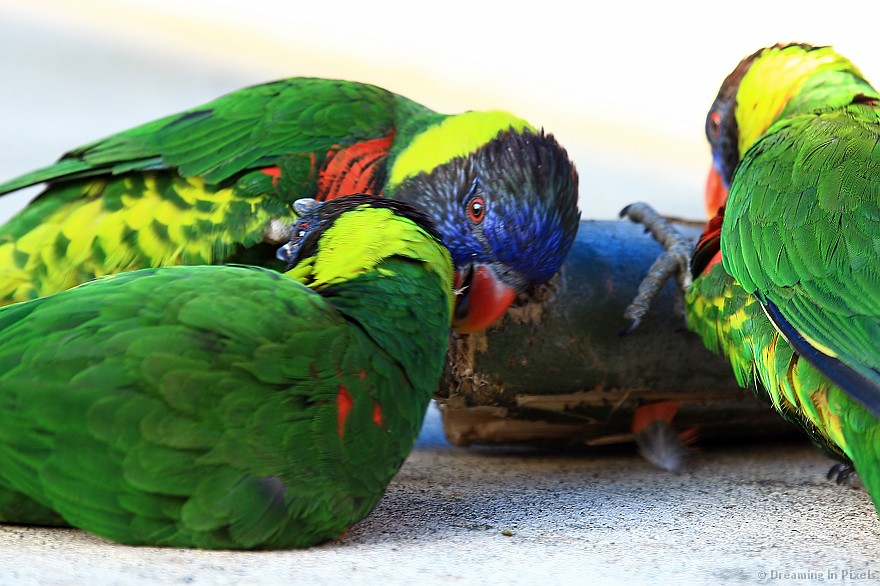 They are arboreal, which means they like trees, and can be very noisy, active, gregarious (sociable) and are often seen in the company of other birds They will spend long times feeding in trees but in hot conditions will have an afternoon break from feeding.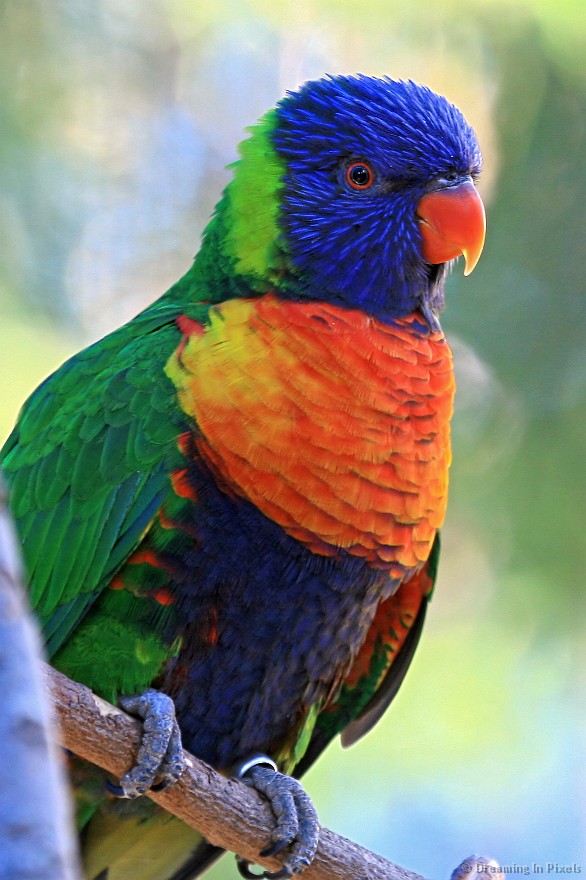 Swainson's Lorikeet (Trichoglossus haematodus molocanus)
For lorikeets, mating and nesting require just as much planning as their feeding routine. Lorikeets will travel long distances in an effort to locate a suitable nesting site. They typically build their nests in tree cavities, often as high as 80 feet (25 m) above ground. Numerous tree hollows are investigated before one is chosen. To prepare the nest, they add a layer of wood dust at the bottom of the tree cavity.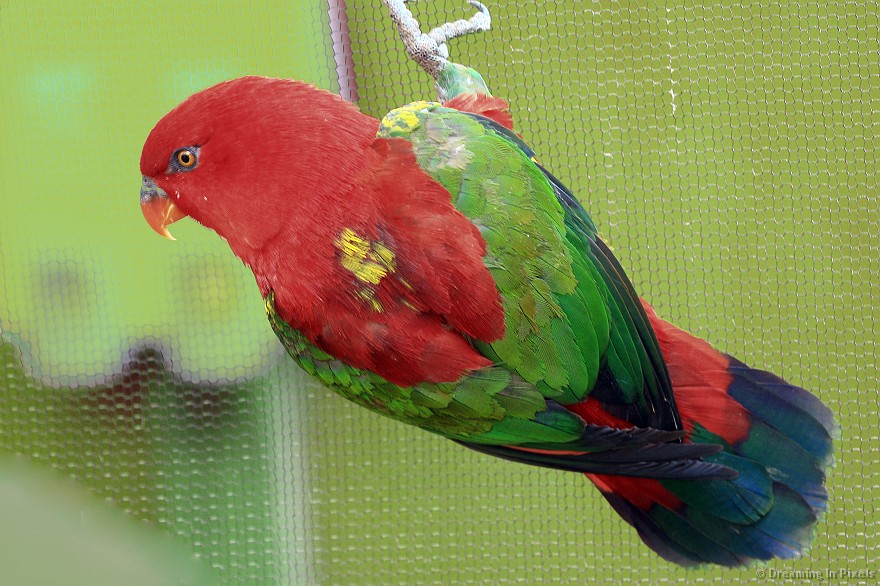 Forsten's Lorikeet (Trichoglossus haematodus forsteni)
The male will display courtship by arching his neck and bobbing his head, all the while emitting a low whistle. The female's interest in mating will depend on how close she is to nesting. Once mating has occurred, the female lays a clutch, or group, of two or three white, oval-shaped eggs in the nest. The eggs are incubated by both parents for approximately 25 days before they hatch. Thought to mate for life, a pair of mating lorikeets can produce up to three clutches a season. In the wild, lorikeets have a life span of 15 to 30 years.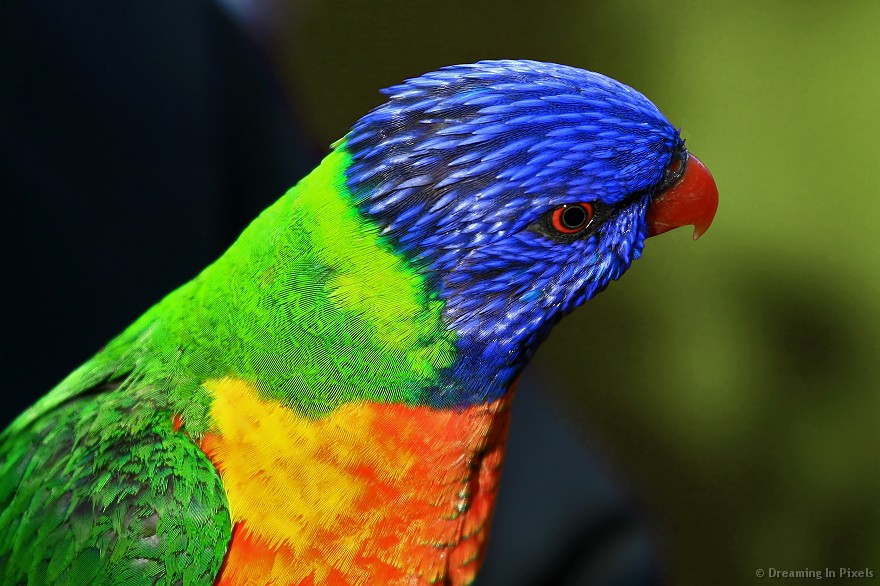 Swainson's Lorikeet (Trichoglossus haematodus molocanus)
At least 13 lorikeet species are considered endangered or vulnerable to extinction. The destruction of lorikeet habitats for logging and agriculture as well as the introduction of rats and snakes to South Pacific islands are a major contributor to their decline.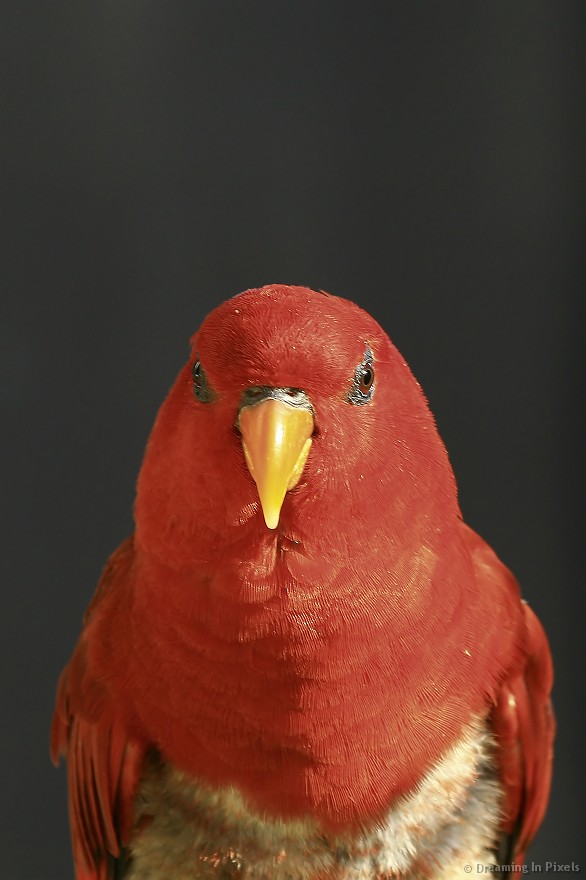 Cardinal Lorikeet
In Darwin, Australia, as much as 80 to 90% of tropical fruit crops have been lost to the Rainbow Lorikeets. In New Zealand, the capture of Rainbow Lorikeets is encouraged by the Department of Conservation. They pose a threat to other bird species that are indigenous to the area, so they have been declared an "Unwanted Organism" by the Biosecurity Act 1993. Pet owners are encouraged to keep their lorikeets in secure caging, otherwise strict penalties are enforced for anyone found releasing a lorikeet into the wild. Joining only a small number of species, Rainbow Lorikeets have been added to the Fifth Schedule of the Wildlife Act, meaning they are no longer protected.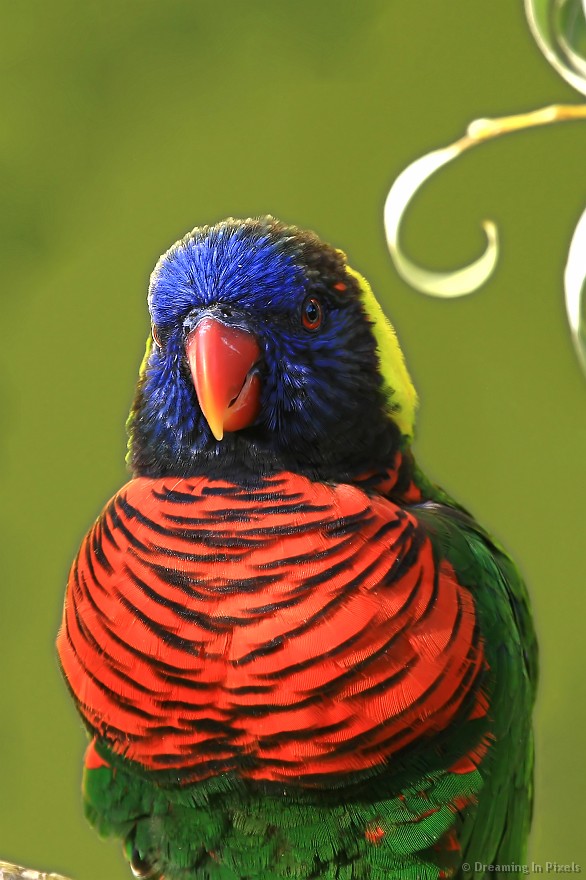 Green Nape Lorikeet (Trichoglossus haematodus haemotodus)
In captivity, the birds have been specially trained to overcome their natural fear of humans, and they aren't shy when it comes to feeding—several birds at one time may even sit on your arm, or even your head and shoulders. Another reason as to why they are so friendly and fearless is because they are kept hungry so they can make contact with humans in order to feed. Lorikeets are curious and intelligent birds. In captivity they need constant human interaction and dedication for their mental and physical well-being.
Posted by:
Aamir
Dec 11th, 2006 •
Category:
Eye Candy
•
Tags:
birds
,
wildlife
Back to top