Icefields Parkway
Posted by:
Aamir
Dec 26th, 2009 •
Category:
Eye Candy
•
Tags:
canada
,
HDR
,
landscapes
,
travel
,
winter
•
Driving on Icefields Parkway is 230 miles of sheer beauty, exotic landscapes, massive glacier topped mountains, lakes and wildlife. It connects Banff with Jasper National Park starting from Lake Louise. It is rated as one of the top ten scenic drives in the world by National Geographic. Words cannot describe what you will get to see, one must experience this drive to fully absorb the bounties of nature.
Our winter vacation started when we landed in Calgary, Alberta and rented this dinky little Toyota Yaris. It did not have snow tires which is very weird because for some reason i assumed rental companies upgrade their car tires during winter. Hertz did not have a 4×4 or an SUV either, so we were stuck with this car.

This is Lake Hector. It is fed by the run-off water from Hector Glacier which is on the mountain behind the lake. This lake is totally frozen as you can see the people below trying to snow-shoe their way across the frozen lake. It was perfect timing, the sun peeked out of a little hole in the thick blanket of snow clouds fanning its golden rays out to light up the mountain. But this lasted for only 1 min then the sun and its rays were gone.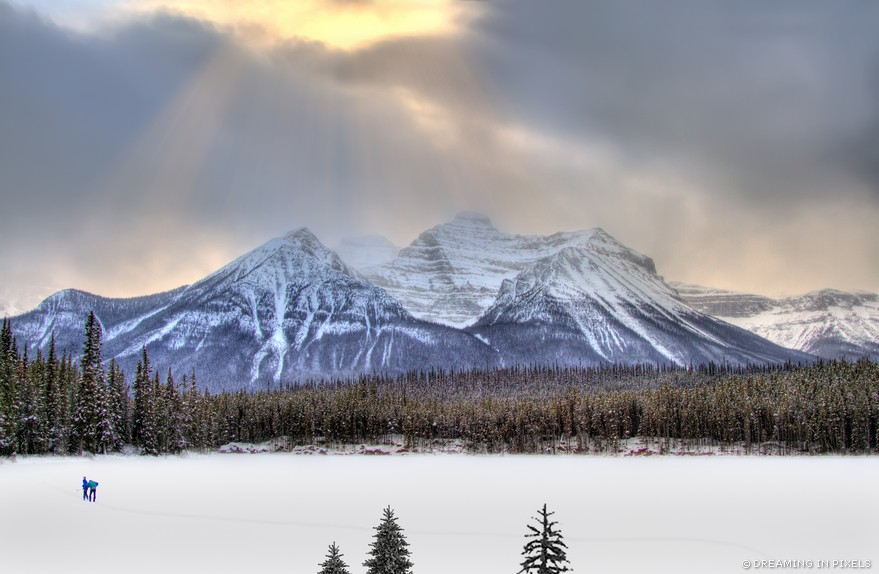 We continued driving on Icefields Parkway. The road started to get a bit icy and slippery.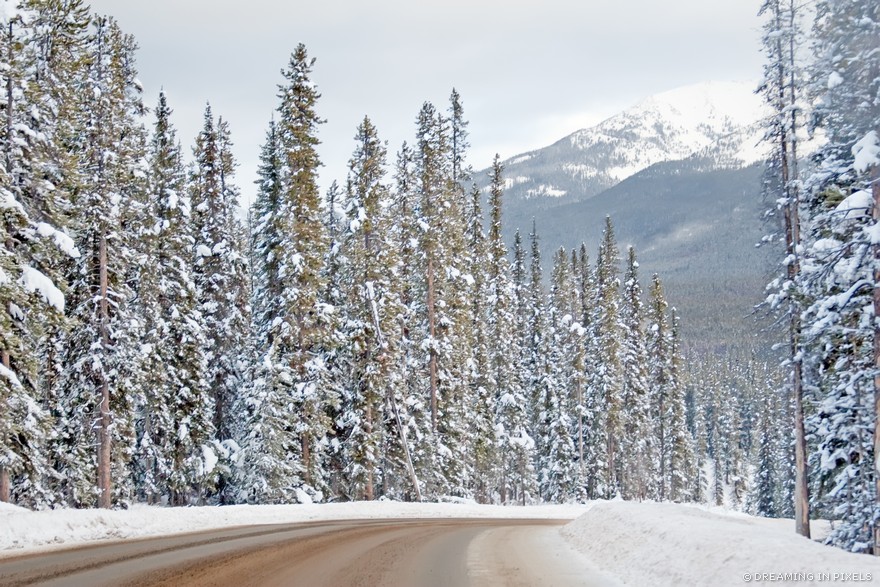 After a few miles of driving, we see this sign.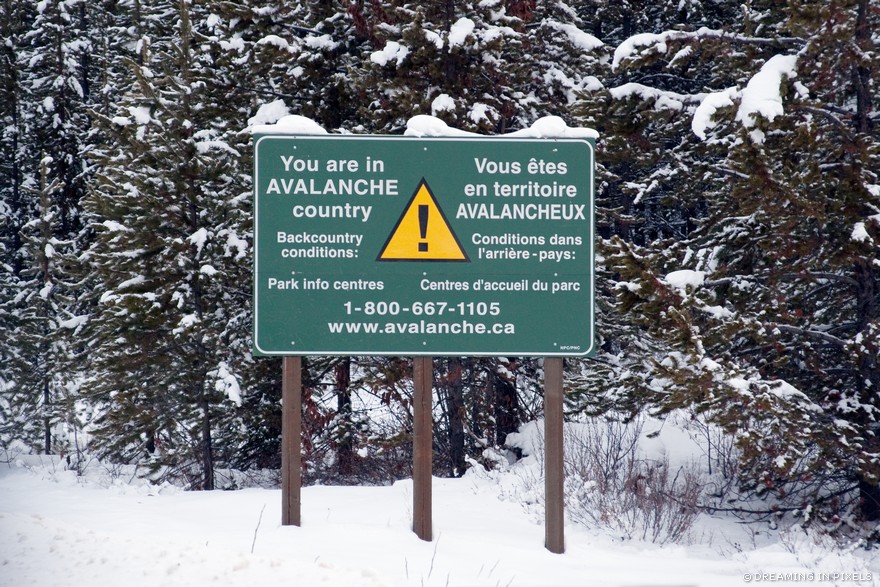 That sign wasn't kidding! As we drove, blobs of snow kept falling through trees lined along the highway coming from the mountain slopes behind them. In the photo below, you can see an avalanche we just missed. Although it wasn't big enough to cover the road, it got us on the edge of our seats.

The weather was turning nasty. The road was getting more icy and slippery, so much so that our car started to fishtail everytime we braked. Our little Yaris couldn't handle it anymore. We saw one more avalanche right in front of our eyes, braked hard, turned around and sped away. We could see more snow being dumped on the trees in the rearview mirror.

This was our short trip trying to drive to Jasper National Park. We plan to do it again, but this time during spring or summer and be a bit more prepared 🙂
Posted by:
Aamir
Dec 26th, 2009 •
Category:
Eye Candy
•
Tags:
canada
,
HDR
,
landscapes
,
travel
,
winter
Back to top